Creamy Veggie Korma
Today I will treat you with one of those everyday meals that will make even the most devoted carnivore jealous. I often wonder why certain cuisines make my heart beat a little bit faster and my taste buds scream out of joy. Whatever the reason, right after my ultimate favourite, Northern African kitchen comes the second favorite: my dear indian cuisine.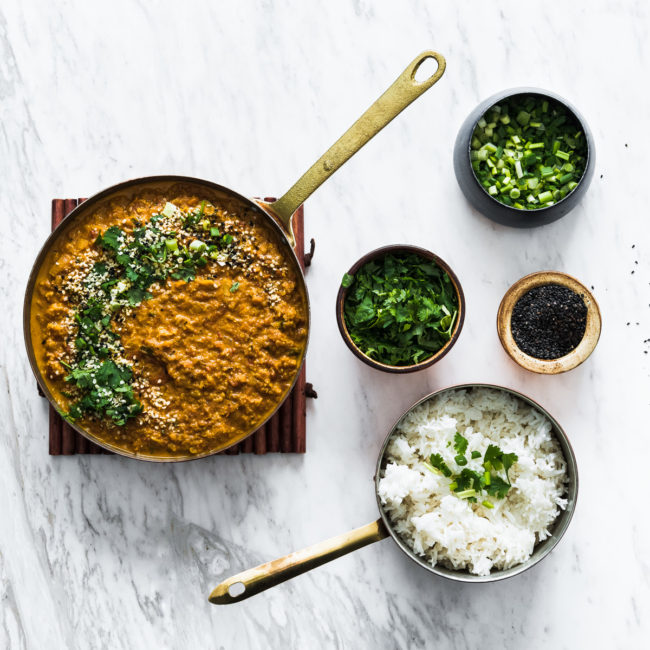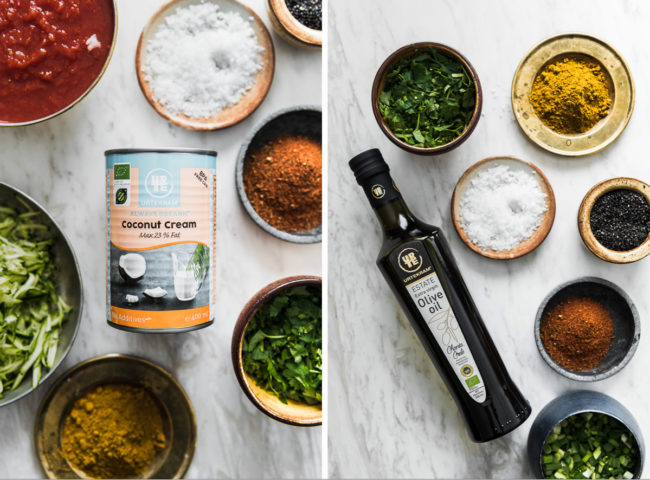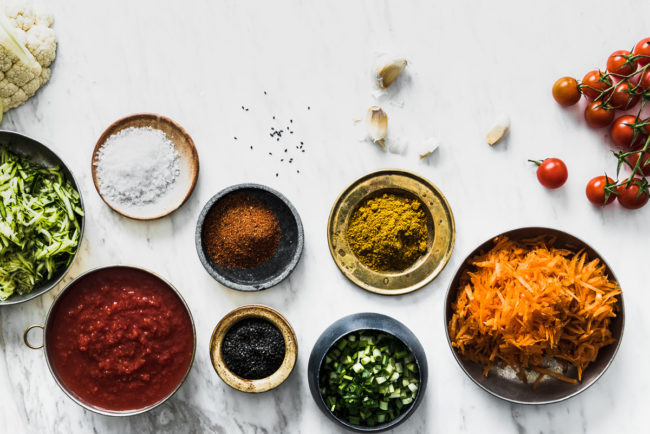 Indian korma is traditionally a lusciously creamy sauce made out of chicken, yoghurt, spices and nuts. My very own Yellow mood version is a mixture of tasty vegetables, spices, great olive oil and coconut cream. If you're not that into coconut, let me say this right away: worry not my friend, you won't be able to recognize even a hint of coconut from the outcome. 
Having said that, it's safe to drop a little disclaimer as well before we start: This rich and creamy sauce is way too tempting (there, I said it) and you will probably eat it many days in a row. So be prepared.
Vegetable korma contains a variety of fresh ingredients: cauliflowers, carrots, zucchini, onions and garlic accompanied with curry and cajun spice mix. Thanks to its mild and mellow taste, cauliflower makes a perfect undertone and basis to this korma dish. It also gives it some nice structure. Personally I like to chop the cauliflower it into thin slices instead of bigger ones but you will find your own favourite style as you go.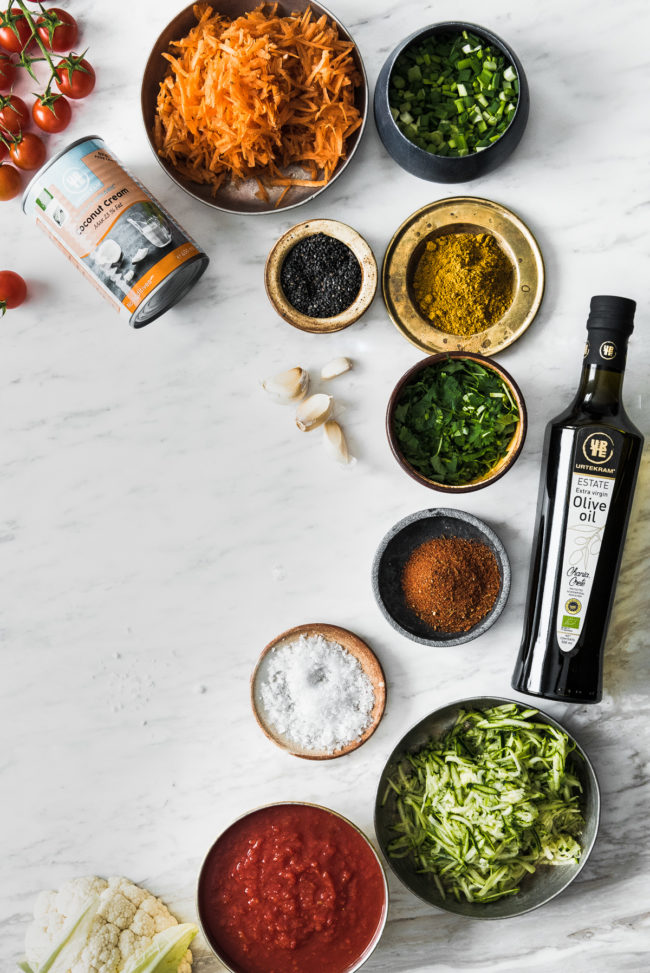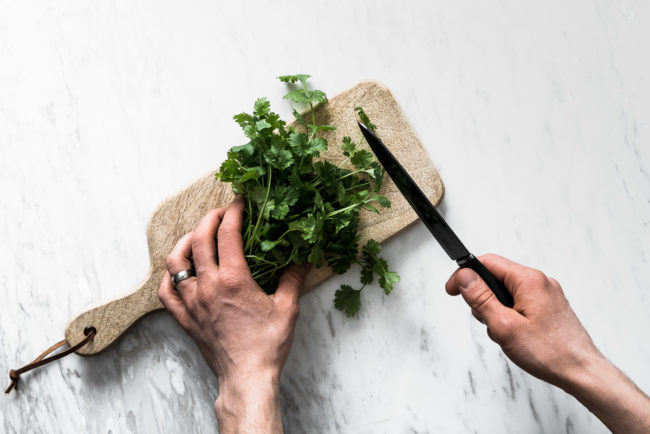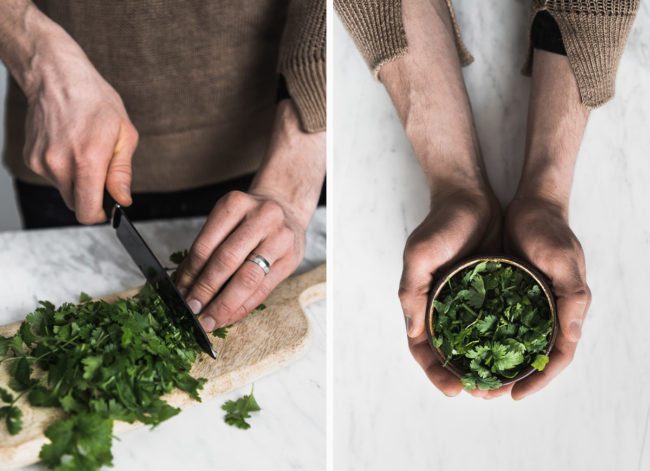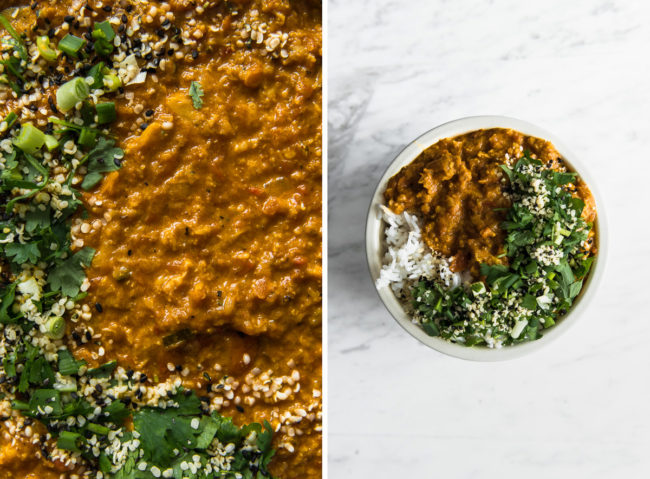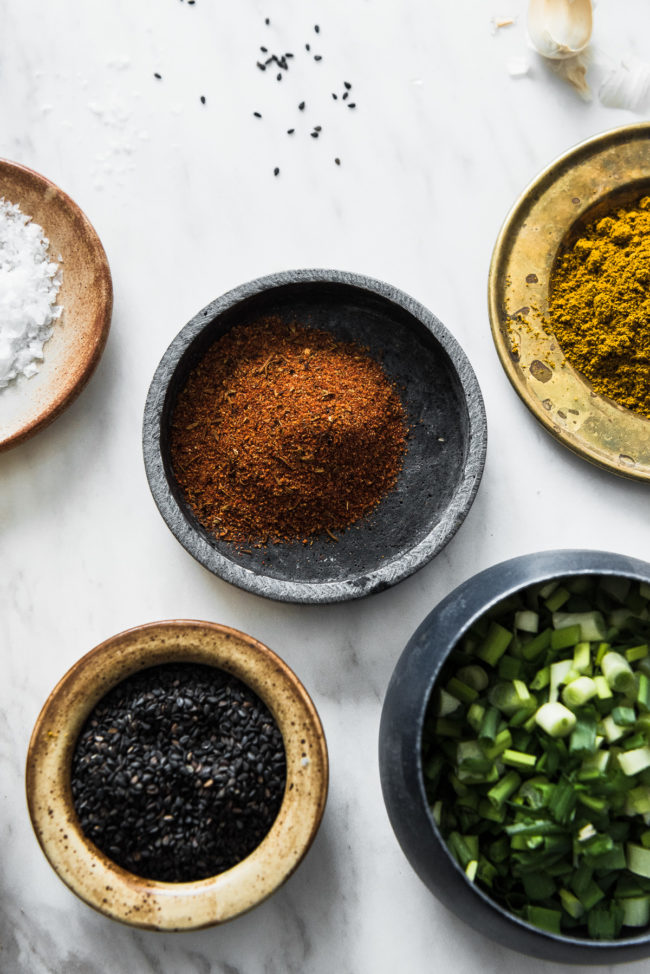 3 x tips
The most time-consuming part of preparatition is the peeling, chopping and grating of the vegetables. If you're hungry and want to get going (and boiling) a tiny bit faster, tempt your loved ones to assist you in the kitchen!
1
In addition to the tasty vegetables, the secret success codes for this dish are time and patience. When you give your korma enough time to cook and brew generously, the vegetables will gain a nicely round taste and all the spices will open up beautifully.
2
I love coconut milk and cream, because these fit fabulosly to raw cakes, different sauces, desserts and savory dishes. For this particular korma dish I used the cream because it's richer in texture and contains more fat – it brings about an ultimately creamy body to the dish.
3
High-quality Extra Virgin olive oil has always a place in my cooking! Urtekram olive oils taste is fabulously soft, a little bit fruity and oh-so-fresh. I'm almost enjoying it as such. I roasted the onions, garlics and chopped zucchinis with this oil and the outcome was great.
The oil is made mechanically out of Koroneiki olives, in 27 celsius degrees. I bet that the loving magic of Renieris family growing these olives plays a big part in this extraordinary taste. They've been farming olives in three generations on their organic fields in Hania, Crete. What a dream it would be to visit them and see how they actually turn the olives into this delicious oil. Oh my…
How to make korma sauce more filling?
Before I hand out the ingredient list and instructions, let me treat you with with a couple of extra hints. If you want your vegetable korma to be a bit more filling, feel free to throw in some chicken or lamb!
Their taste go very nicely in hand with the traditional indian spice mixes and will give the sauce a bit more structure. Fresh herbs will bring along some beautiful and vibrant contrast to the well-cooked sauce. I warmly recommend having a lot of fresh coriander and green onions at hand – they will make the final touch.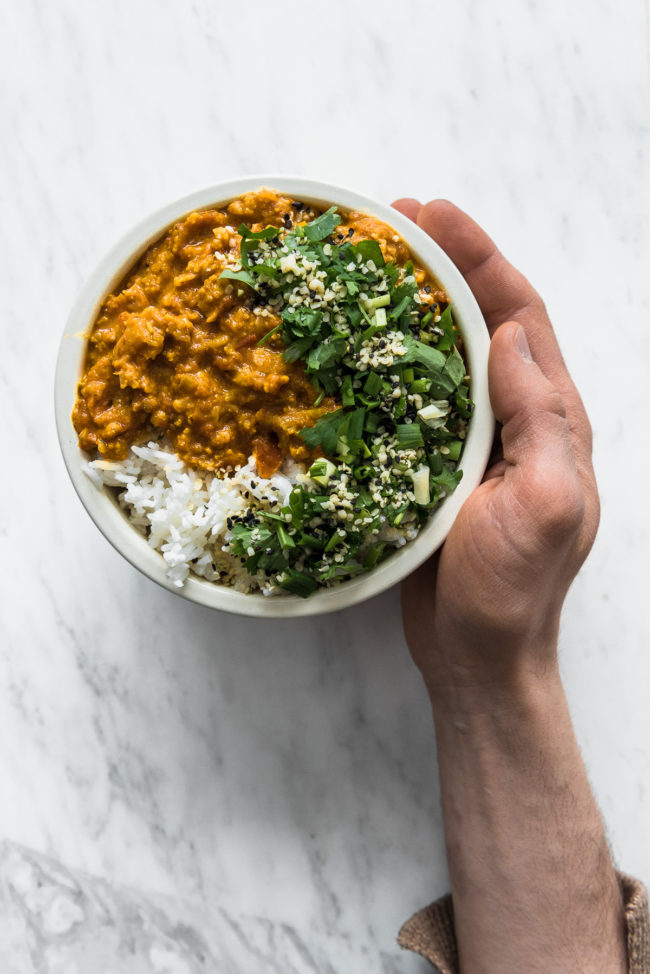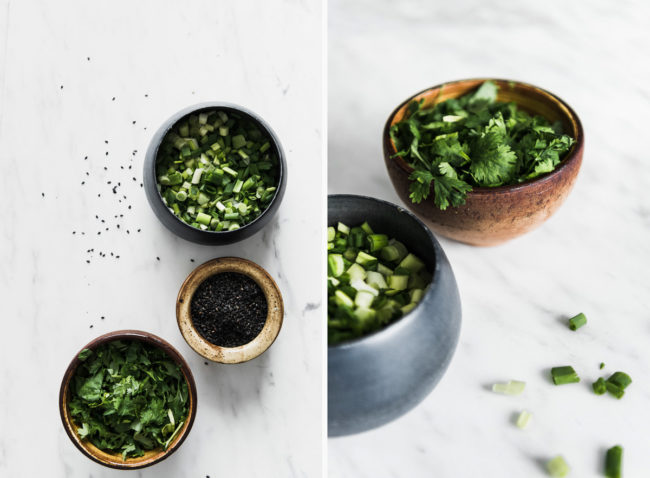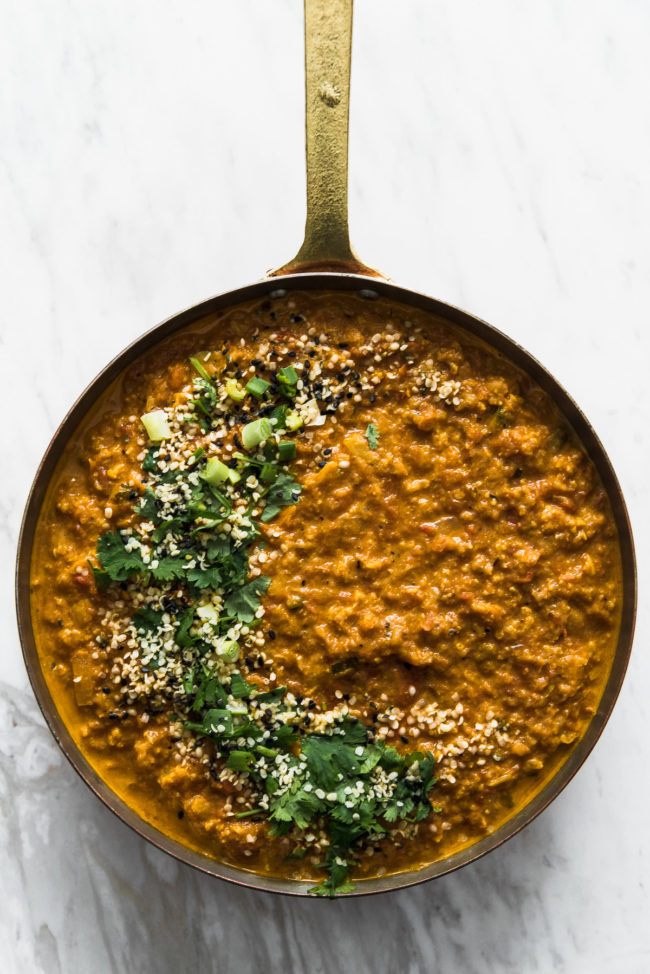 Yellow Mood's Korma Sauce
8-10 portions
1 kg (35 ounces)
cauliflower
400 g (14 ounces)
zucchini
600 g (21 ounces) 
canned tomatoes (Mutti)
500 g (17 ounces)
fresh, ripe tomatoes
3 tbsp
curry spice mixture
1-1 ½ tbsp
cajun spice mixture
1 cup
thick coconut cream
1. Wash zucchinis and cut into small cubes. Peel the onions and cut into small size. Cut peeled garlic into thin slices. Add the onions and zucchini cubes to the pot with olive oil and roast until the onions are beautifully brown and soft.
⠀⠀⠀⠀⠀⠀⠀⠀⠀
2. Remove cauliflower leaves and hard center. Slice into thin slices. Wash the tomatoes, remove the middle center and cut into eight parts. Grate carrots with the largest blade of the grinder.
⠀⠀⠀⠀⠀⠀⠀⠀⠀
3. Add cauliflower, carrot, tomatoes, canned tomato, water, salt, Cajun spice and curry to onion-zucchini mixture. Heat the mixture to boiling and cook under the lid for medium heat for one hour. Mix in between.
⠀⠀⠀⠀⠀⠀⠀⠀⠀
4. Add the coconut milk to the ready-to-eat sauce, mix and check the amount of salt. Enjoy with boiled basmati rice or quinoa and add fresh coriander, chives, black sesame seeds, hemp seeds and avocado on the top!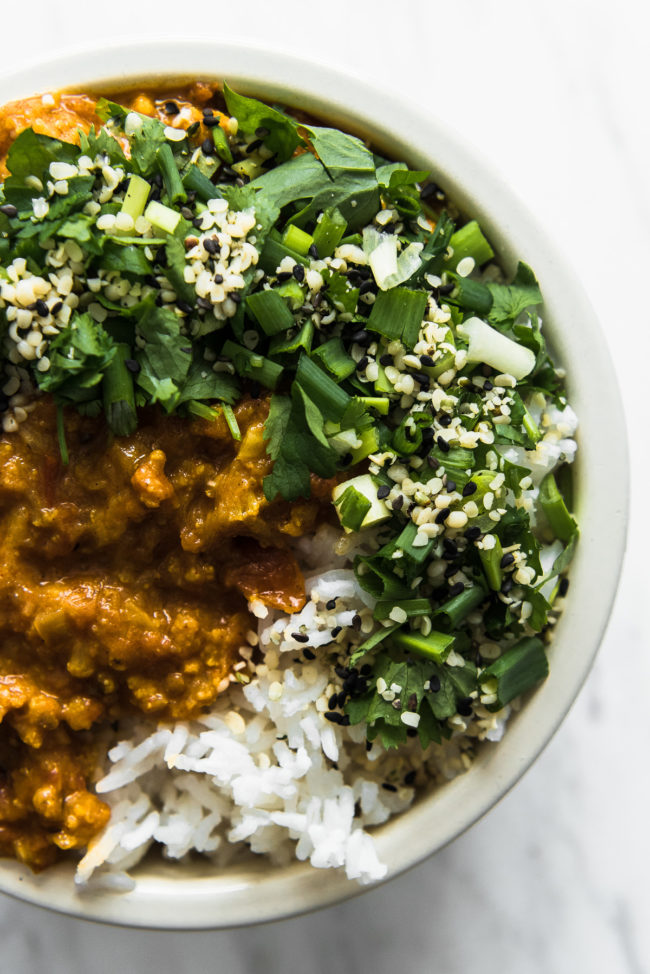 If you're seeking more healthy and tasty food inspiration, give a try to these delicious options: Vegan tomato soup is made of fresh tomatoes and is at its best at summertime, gluten-free Italian tomato pie and sprout salad with lemon vinaigrette is perfect treat for summer picnics and roasted root veggies feta loaf works all over the year!
Hannamari, xo