Dreamy Vegan Strawberry Raw Cake & E-Book News!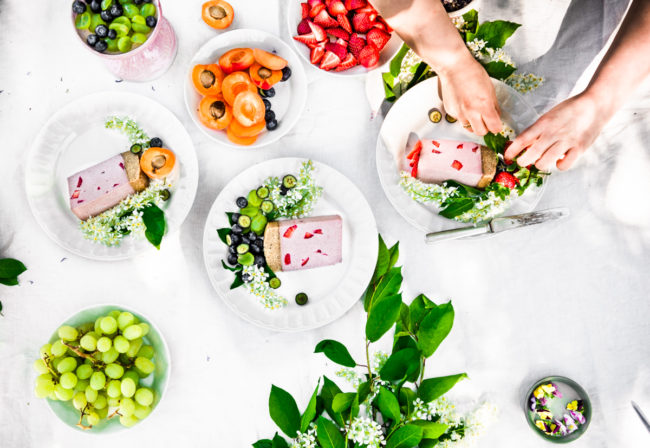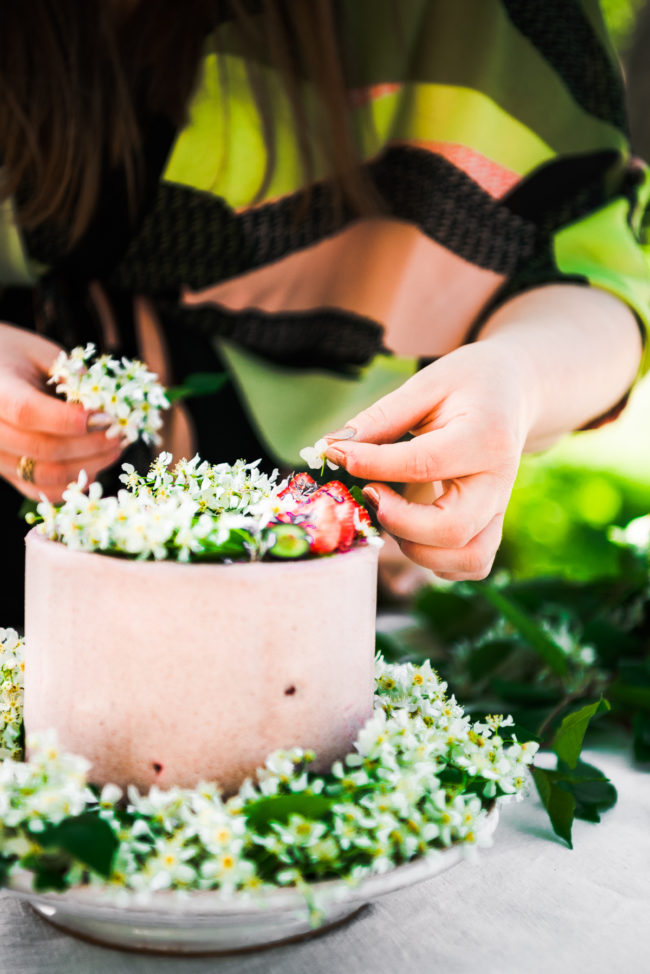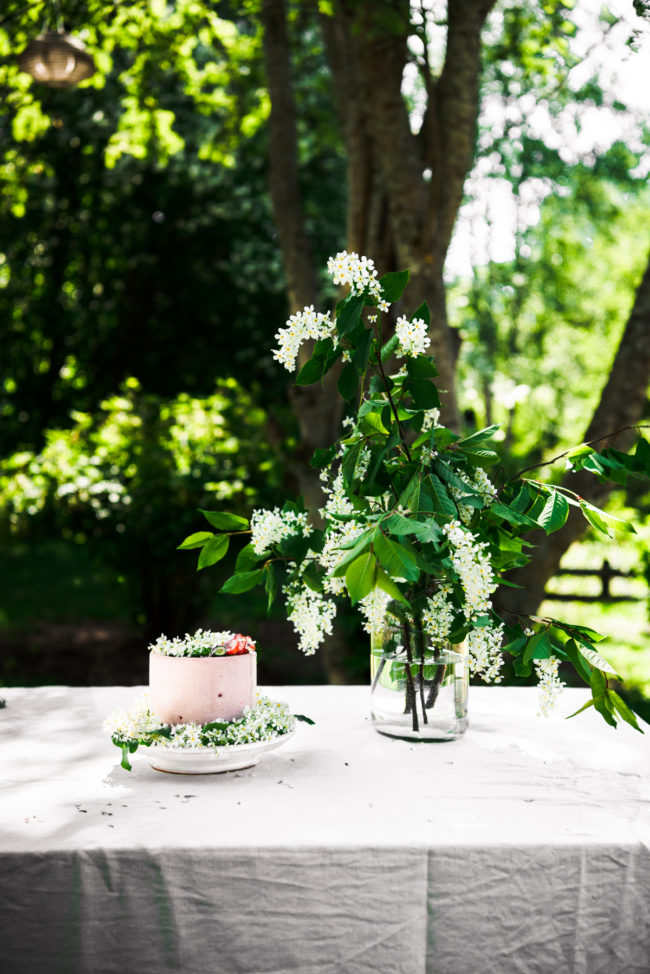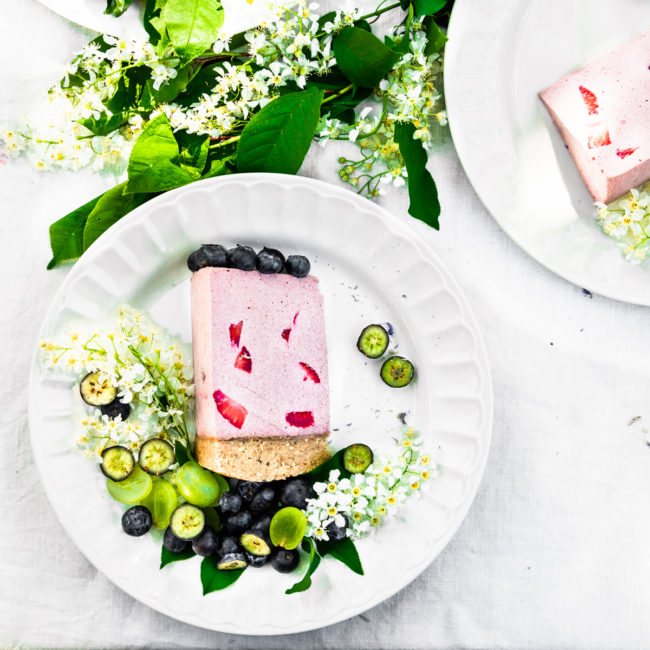 Oh how I wish it could be eternal summer!
As many of you propably know, we live in Northern Finland, Arctic Circle, where summers are short but even more intensive. This is the time of nightless nights, lovely wild flowers fields and we have worlds purest air and so much forests and lakes it's almost impossible to believe it until you really see it yourself (and yes, at the summer time we have also our tiny friends mosquitos with us..).
This year we got extra summer month and this makes me so, so, so happy! For some reason the weather decided to skip the spring time and we jumped from winter straightly to summer mood. What a joy!
Sudden warmth made miracles and suddenly all Finns here in Rovaniemi got out of their caves. They are walking the streets, biking all over, going to picnics, wearing summer dresses, laying in the beach, eating ice-cream and walking in the forests. Everyone is smiling – summer really makes you flourish after long, cold and dark winter time.
I've been mostly enjoying of all the greenery and warmth by picking huge wild flowers bouquets (oh how I love bird cherry trees, lupines, rowan flowers, lilacs!), gardening, taking naps in the hammock, reading books at the balcony and dressed mostly to light caftans which make you look and feel like a bohemian parisian. Love. it. all.
Few weeks back we had the most beautiful photoshooting day in our garden with Tuomas. The best part was of course the end of the photoshoots, because it ment that we could finally take (krhm, huge) pieces of this pink strawberry raw cake!
This mouth watering cake disappeared in our mouths in a less than two days, so I bet this creature a great hit. Please let me know if you try the recipe!
Read also: Gluten-free Chocolate Layer Cake with Berries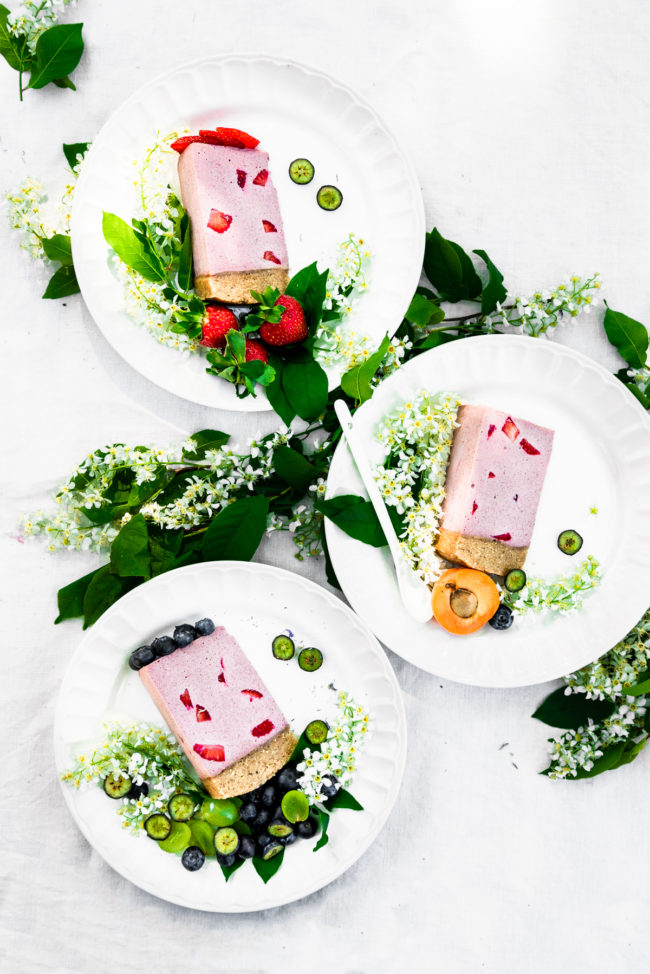 The cake is vegan and naturally gluten-free, so it is ideal for a variety of eaters. If the strawberries cannot be used because of the allergy, feel free trying any sort of summer berries like blackcurrants, lingonberries, blueberries, raspberries or cherries! In fact, I'll try blackcurrant version in the late summer when our gardens blackcurrant bushes give us dark blue, matured, plumpy and juicy berries.
For cake base I used only four ingredients: raw cashew nuts, juicy Medjool dates, pinch of sea salt to emphasize other flavors and crushed cardamom. The strawberry cake has a lot of mousse filling, so I made the base thicker than usual. The base tastes like cardamom cookie and makes perfect match with strawberries!
The strawberry mousse filling is made of solid full fat coconut milk, strawberries, Medjool dates, virgin coconut oil, oat mylk, vanilla extract and cashew nuts. If possible, choose coconut cream which has very soft and mild flavour of coconut. Filling includes melted frozen strawberries, but its totally fine to use fresh berries instead. If you decide to use fresh berries, the appropriate amount is 1 1/2 cup (350 ml).
I wanted to have a high cake so I used cake tin which was 6″ x 5″ (15 x 13,5 cm). It is also possible to make the cake to lower tin, but I recommend it is a maximum of 8″ (20 cm) wide.
Guide for nut-free version: The best way to replace cashew nuts in a base is using sunflower seeds instead. The flavour of sunflower seed is very mild and they have still enough fat to achieve a cookie like taste and texture! The best way to replacing cashews in a strawberry filling is to switch nuts to coconut flakes, hemp seed hearts or sunflower seeds or mix all these three together.
But now THE NEWS, babes: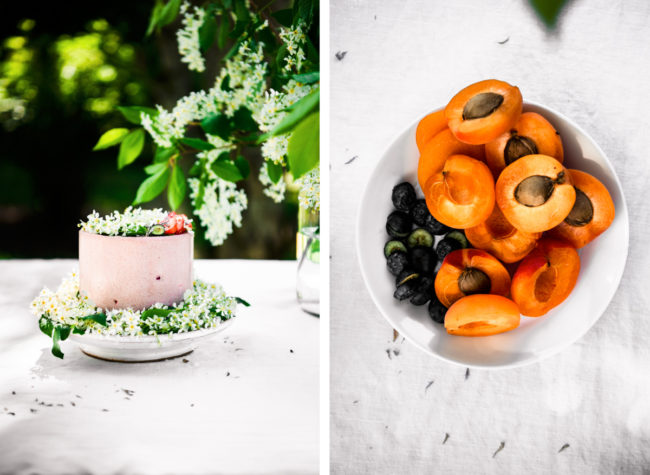 My heart bumps like a hammer, since I've kept this little secret for sooo long. I've been workin' with a book project and it's my pleasure to announce that Yellow Mood Kitchen – The Best Raw Desserts Ebook is published in English and Finnish 7th of July 2018!
I've poured to this creature my heart, but also all the knowledge I have about raw baking, high quality ingredients, superfoods, different techniques, decoration and what so ever! Book contains very large info section and over 45 delicious recipes for raw cakes, tarts, nice creams, bliss balls and raw chocolates.
The main reason I wanted to write this book was that so many people were asking my advices since I was sharing raw food dessert recipes at my blog and kept raw food workshops. I wanted to offer all my information about high quality ingredients, raw baking techniques and possibilities in one place.
Raw food baking is generally very health-oriented, but I deem it equally important to make my treats beautiful and tasty. Even the healthiest cakes must be delicious – no compromises with this! As the beautiful raw food pampers our senses we can also reap all the benefits of highly nutritious ingredients that support our wellness and energise us in everyday life.
The book contains over 200 pages of healthy goodies without refined sugar, gluten or dairy and 95 % of the recipes are vegan.
Can't wait to share more — only four freakin' days until the book is available for all ya sweet tooths! Now its time to scroll down for the strawberry raw cake recipe, ay!
Join Yellow Mood's mailing list from the front page & I'll send you special discount 7th of July (this is only for my newsletter subscribers)!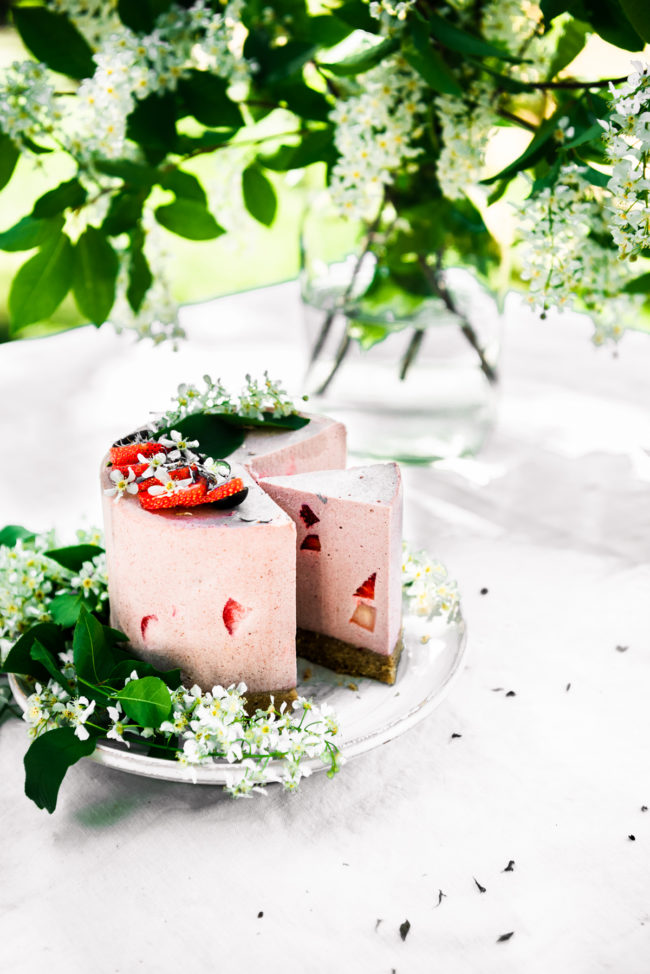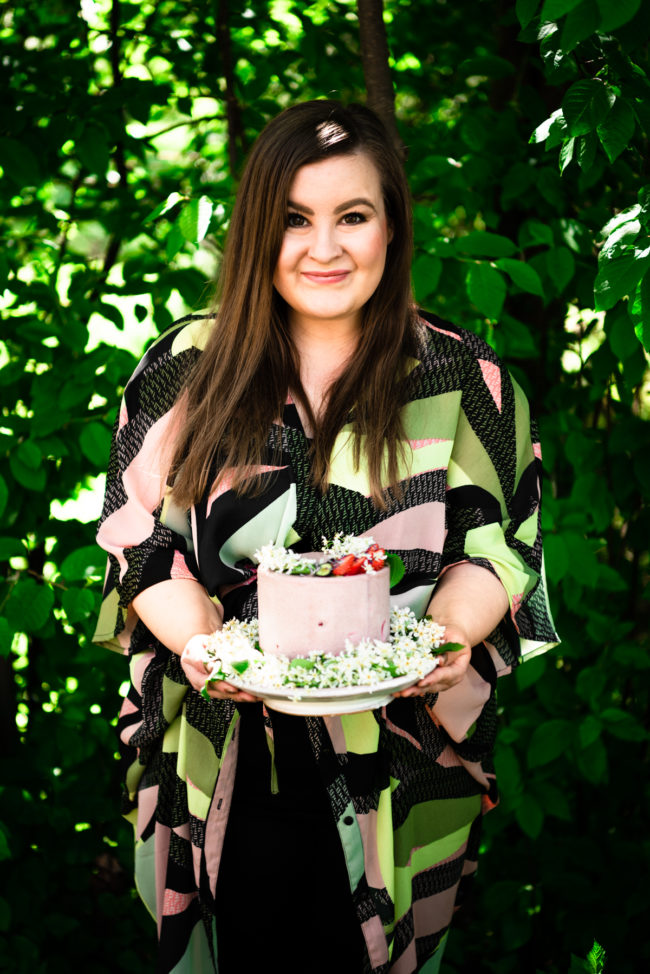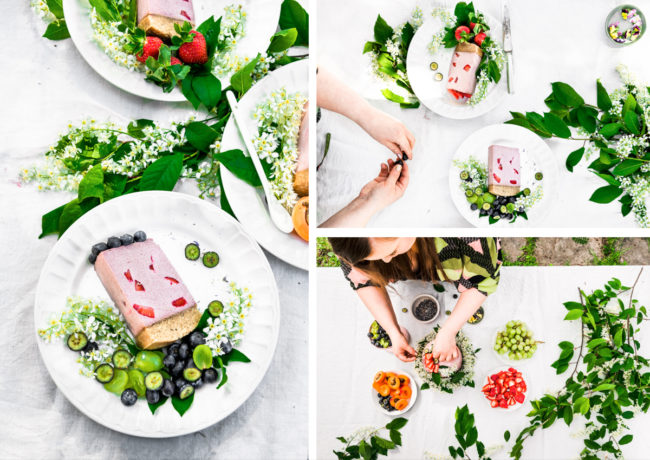 Raw Strawberry Cake
For 10 persons / cake tin 13.5 cm x 15 cm
Base:
5
soft medjool dates, pitted
½ tsps
unrefined sea ​​salt
1. Remove the stones from the dates. Measure all the ingredients into the blender.
2. Mix until the batter is smooth. Use blender's tamper if needed.
3. Spread evenly onto the cake tin.
Strawberry Mousse:
2 cups (480ml)
solid coconut milk
¾ cup (200ml)
virgin coconut oil, melted
15
soft medjool dates, pitted
1 cup (240ml)
strawberries (for mousse)
½ cup (120ml)
cashew nuts
2 tbsp
vanilla extract (optional)
1 ¼ cups (300ml)
fresh strawberries cut into small pieces
1. Melt the coconut oil in a hot water bath. Open the chilled coconut milk cans and pour the excess liquid away. Pit the dates.
2. Measure coconut milk, oat milk, dates, first part of strawberries, cashews, vanilla and beetroot powder into a blender. If using melted strawberries in the mousse, pour the excess liquid away (you can use the extra liquid for example in a smoothie).
3. Mix until the filling is smooth. Add melted coconut oil and mix quickly once more. Pour strawberry mousse into the bowl.
4. Cut fresh strawberry pieces into cubes and add to the strawberry mousse. Mix with spoon.
5. Pour the strawberry mousse over the cake base. Mix lightly with a spoon to remove excess air bubbles. Place the cake in a freezer for about an hour. Serve with loads of fresh strawberries, edible flowers and enjoy the taste of hot summer days!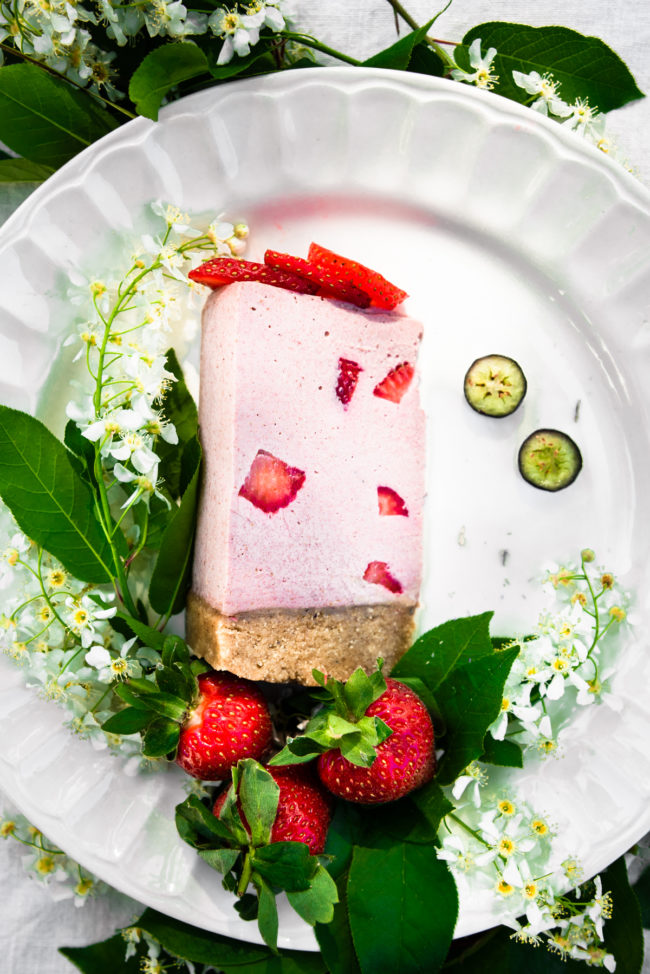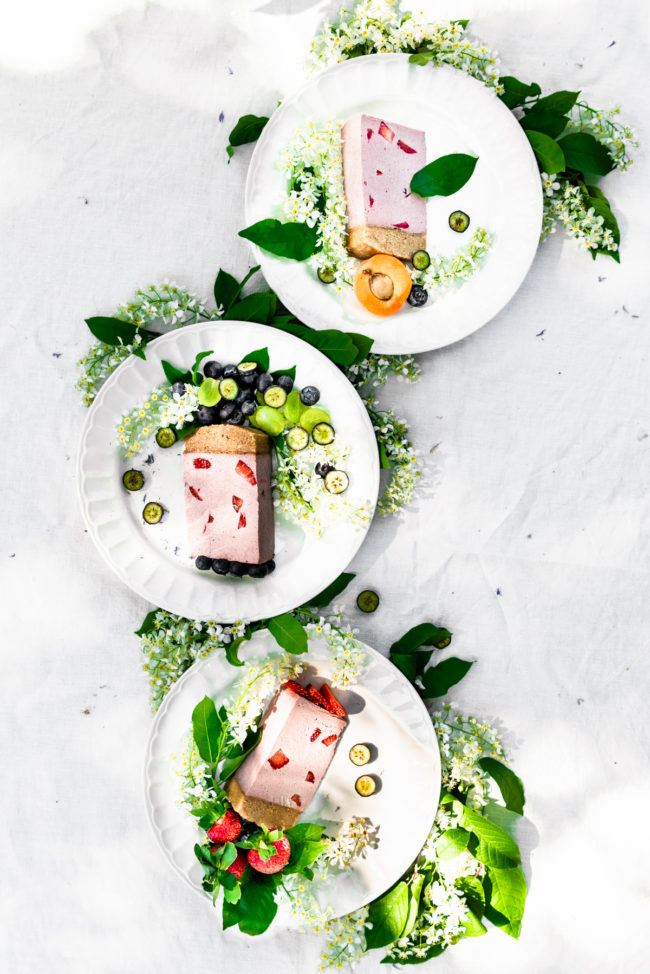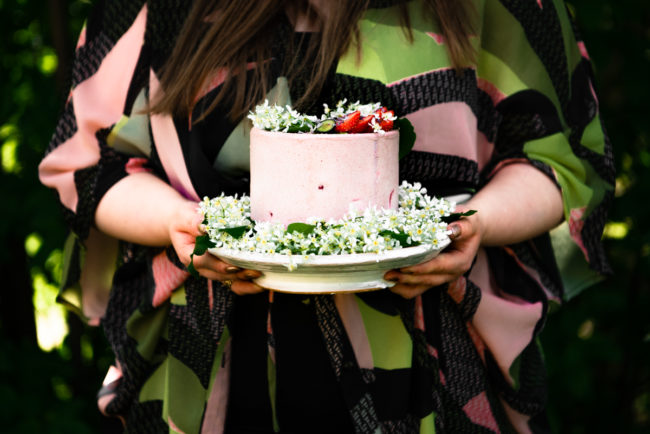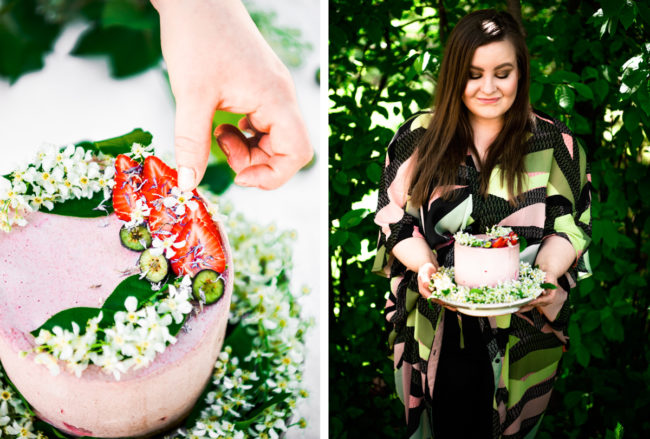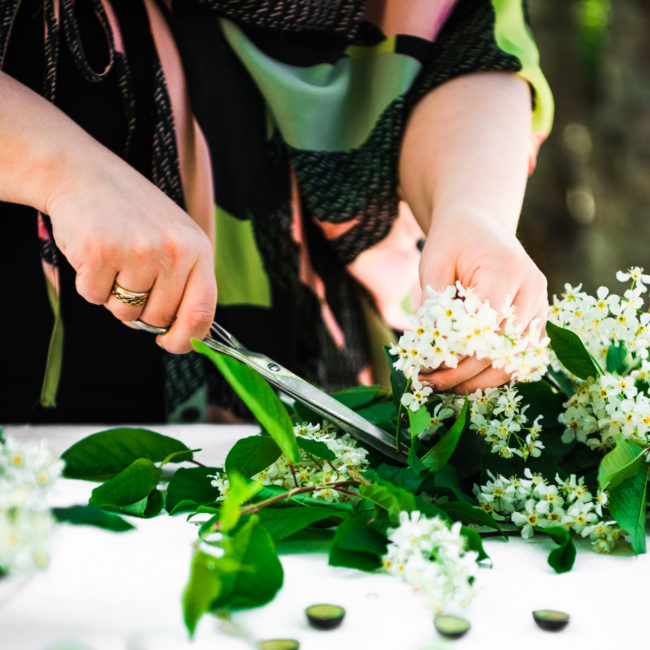 Photos Hannamari Rahkonen