Chocolate Layer Cake With Berries
BOOM!
If you love bohemian, wild, creamy and luscious cakes, this is what your parties miss! Traditional cream cakes are quite boring and predictable so I had to create something different for this summer. This beautiful cake is free from dairy and gluten. The taste is versatile and fresh.
I love easy recipes so that was my advice for myself when I started to plan this recipe. That's why the cake base is completed in baking tray, it is super easy!
Filling is mouthwatering combination of coconut cream and oatmeal cream cheese. Filling gets freshness from lemon peel and sweetness from honey. If you have celiac disease, you must replace the oat cream cheese with the same amount of coconut cream or milk-based cream cheese.
The cake gets better with age, so I recommend to fill it the night before parties and decorate later. What it comes to the look of the cake, remember that it is not too exact! This cake must look little wild.
---
CHOCOLATE LAYER CAKE WITH BERRIES
12 portions
free from dairy, soy and nuts 
---
CAKE BASE
6 eggs (size M)
1 cup coconut sugar
½ cup gluten-free oat flour
½ cup potato starch
2 tps baking powder
¼ cup + 3 tbs cacao powder (without sugar)
Heat the oven to 200 °C (392°F). Whip the eggs and sugar until you have thick foam. Mix all the dry ingredients together and sift them into egg-sugar-mix, mixing all the time. Pour the dough into greaseproof paper covered baking tray. Bake in the middle of the owen 9 minutes. Let the cake cool down. Cut the cake straight edges. Cut the cake after that to four equally large pieces.
LEMON FILLING
2 cups coconut milk (refrigrated, use only the thick part)
300 g Oatly oat cream cheese (replace with coconut milks thick part if you want cake to be free from gluten)
¼ cup + 3 tbs honey or coconut syrup
¼ cup fresh squeezed lemon juice
½ grated lemon peel
Open coconut cream cans and drain the extra water away. Measure to a bowl thick coconut milk, honey and grated lemon peel. Mix with beater until the filling is smooth. Add then oat cream cheese and mix until smooth. If the filling seems to bee too thin, put it to fridge for an hour.
BERRY SAUCE
1 cup frozen raspberries
2 tsp honey
Let raspberries melt soft. Mix melted raspberries and honey  together with big spoon.
DECORATION
2 ½ cups fresh berries
edible flowers
herbs (mint, lemon balm)
ASSEMBLY
Spread over the first cake base ¼ from the lemon filling ja ¼ part from raspberry jam. Add second cake base on top of the lemon filling and continue assembly in the same way with next three layer. Decorate the cake with fresh berries, herbs and flowers. Enjoy!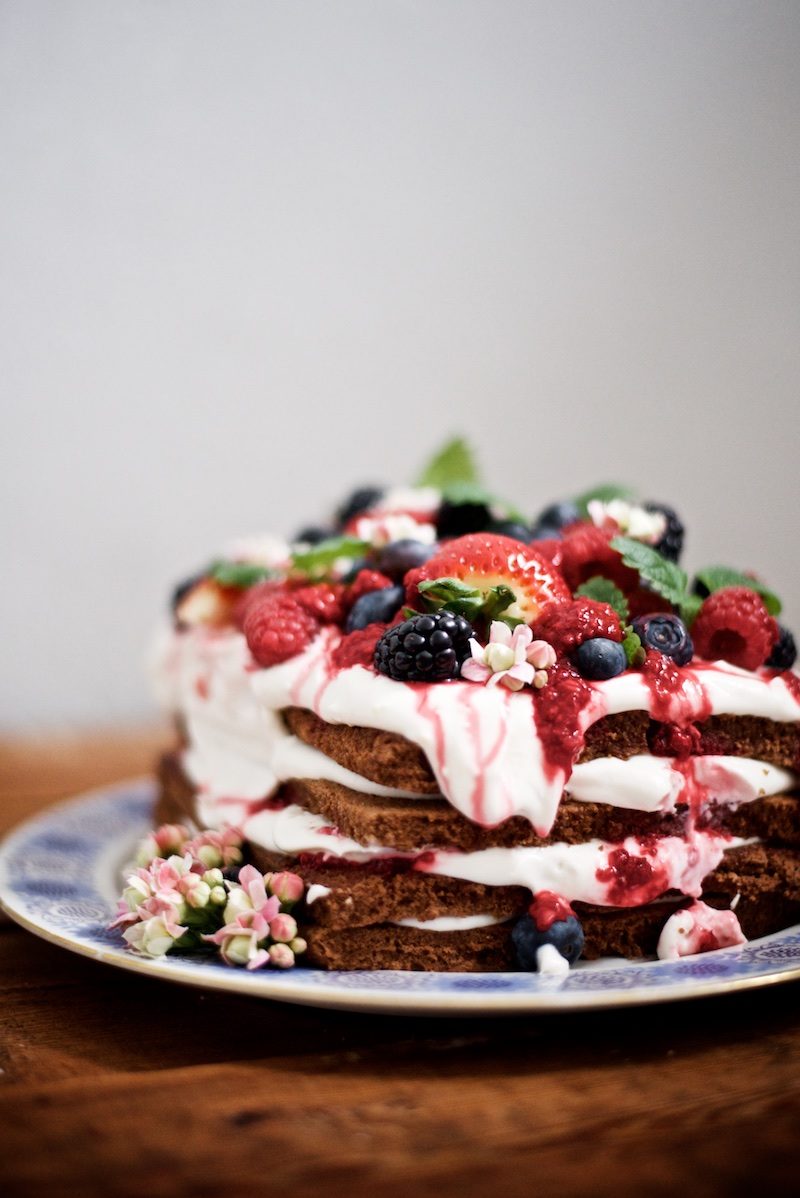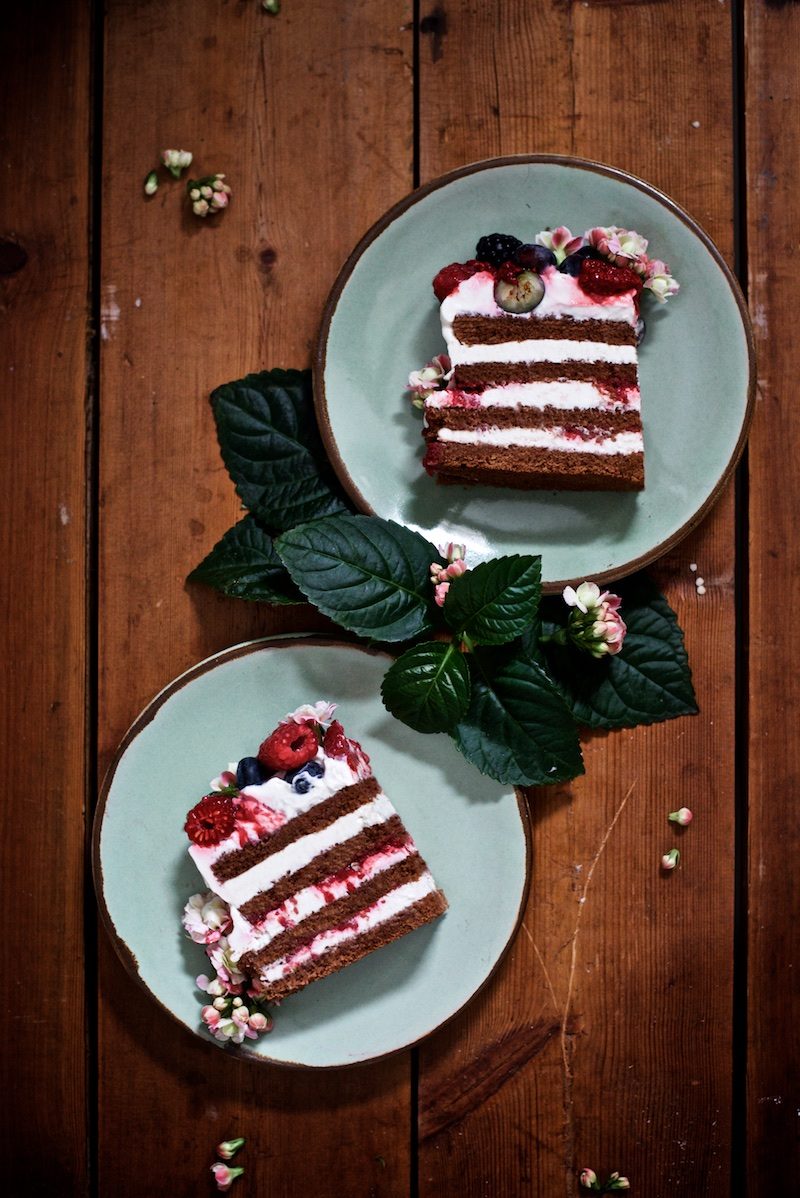 Follow Yellow mood: