Warming Red Lentil Soup
One of the most clearest signs of winter is that I take my pots from cupboards and start to make soups. Thoug we are living almost spring, some days weather gets colder and it makes my body feel cold. Big pot warming soup gives energy and keeps me going through these freezing days.
This soup recipe is very special for me. My friend prepared this to us many years ago and though she had made soup very much, we ate all of it! It truly is the worlds best lentil soup. After this visit I got the recipe and this soup has became one of our basic daily foods. Usually I make this soup very often during autumn and winter time. And when I say I make it, I mean: I make it a lot.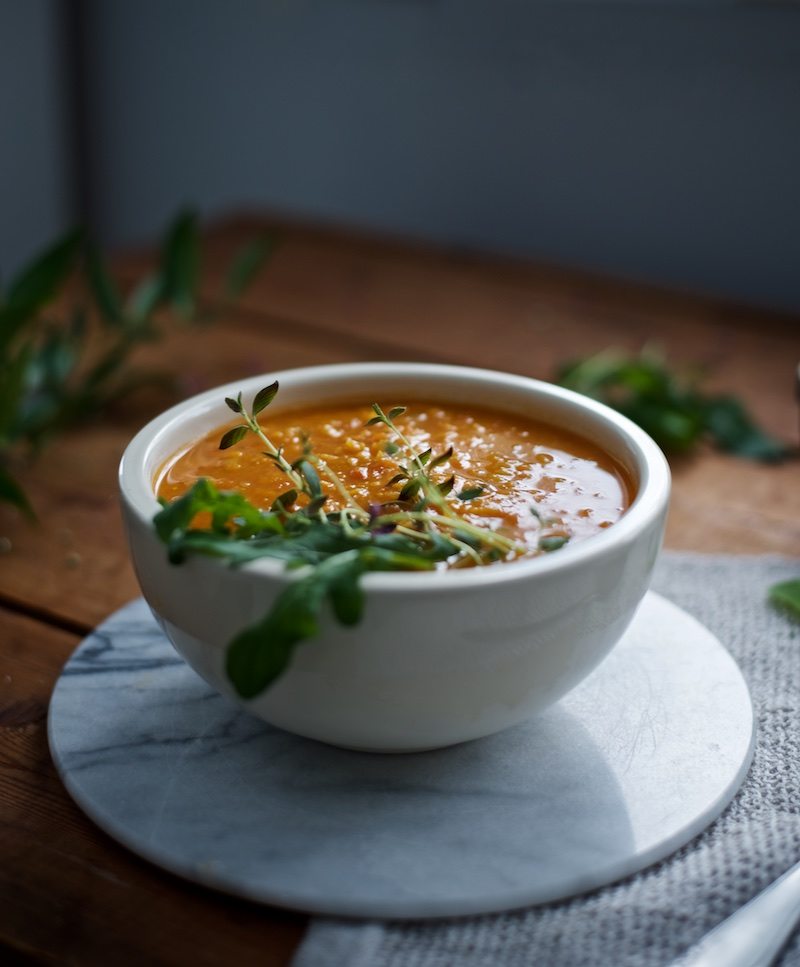 This lentil soup recipe contains six servings, but I make always at least double – and sometimes even triple – batch of soup. You can also freeze soup to portions and make you busy schedule tastier and healthier! The soup is really easy to prepare.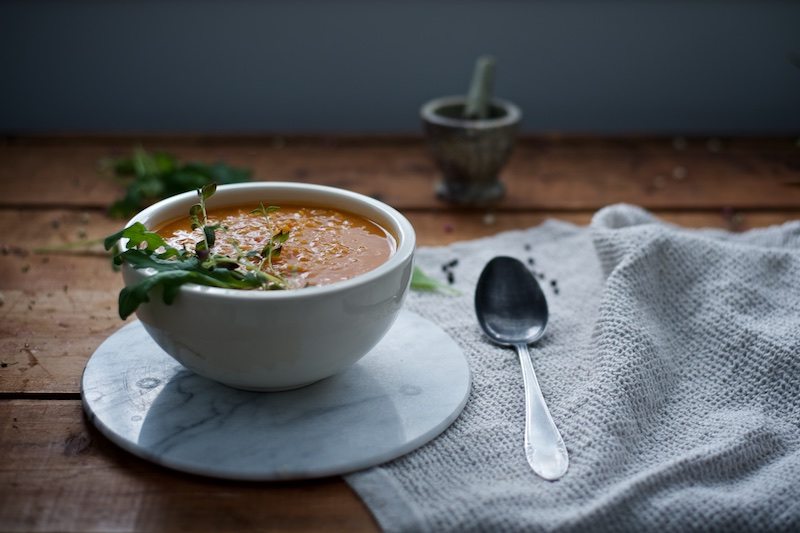 ---
RED LENTIL SOUP
6 servings
free from gluten, nuts, soy, eggs 
---
2 tbs organic butter or coconut oil
1 big onion or 2 small onions
3 cloves of garlic
2 tsp turmeric powder
1 tsp of ginger powder
1 ½ tsp cajun spice mix
1 ½-2 tbs sea salt
400 g of crushed tomatoes
400 g chili crushed tomatoes
4 ½ cups of water
1 ¼ dry red lentils
¾ cup organic cream or coconut cream
Rinse the lentils thoroughly in a sieve with cold water. Chop the onions and garlic cloves and put those to a pot with spices and butter. Sauté gently over a low heat, but do not let ingredients burn until they are brown. Add the water and crushed tomatoes. Let this mix boil for a few minutes and add rinsed lentils. Let soup simmer for 30 minutes. Take the soup from the heat, add cream, mix well and wait 5-10 minutes before serving.
Very rare recipes are as addictive as this red lentil soup. It seems we never get bored to its taste and texture! So, go and make some red lentil soup and stay warm.