Chocolate Cookies with Peanut Butter Cream
Peanut has never belonged to my my favorite flavours. I remember when I was a child and my siblings ate their Snickers bars and I almost hold my nose since the smell was so off-putting. Well, little I knew since the desensitiazion didn't end to childhood! Last nine years I´ve been witnessed my hubbys love for roasted and salted peanuts and almost everything that includes those tiny beans.
During these years I´ve been used to the smell of peanuts and I´ve even tasted those in many situation. The truth is that we are not the best friends still, but I´ve started to like peanuts and peanut butter in some recepies. And this recipe is one of those!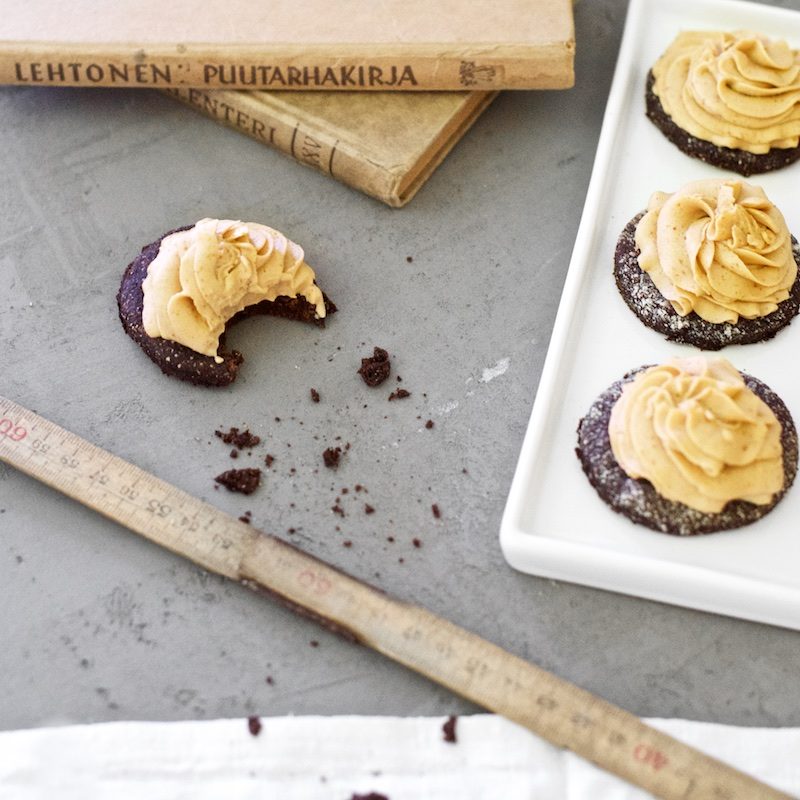 These chocolatey banana cookies are naturally gluten-free and baked in oven. Cookie base contains gluten-free oat flour (which is easy to make yourself, just blend rolled oats in your blender until you have smooth flour!).
The peanut butter cream is super easy to make and delicious with cookies or without the cookies. I used to this recipe Meridians roasted and salted peanut butter. Normal peanuts have many times very bad quality (and taste as well) so I prefer you to choose always organic quality.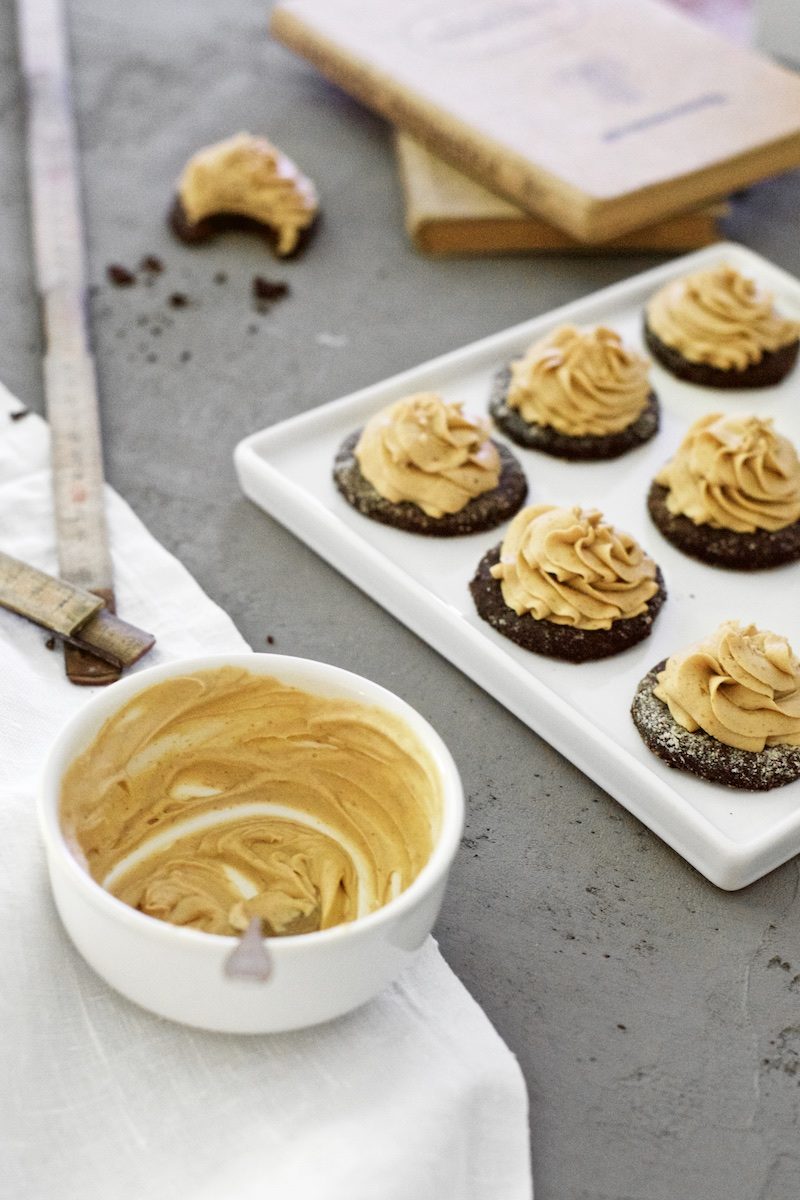 ---
CHOCOLATE COOKIES WITH PEANUT BUTTER CREAM
18 cookies
free from gluten, dairy, refined sugar, soy, vegan
---
CHOCOLATE BANANA COOKIES
appr. 18 cookies
1 ¾ cups oat flours
2 big or 3 smaller ripe bananas
¼ cup coconut palm sugar (optional)
½ cup dark cacao powder
¼ tsp sea salt
oat flours to baking
Peel the bananas. Add bananas to a blender can and mix until you have smooth banana puree. Add banana puree to a bowl with other ingredients and mix well with your hands. Sprinkle some oat flour to table and to the top of the dough. Roll out the dough until it is about 1-1,5 cm thick. Sprinkle oat flour to a table and add flours on the top of the dough too. Roll dough to a with a rolling pin. Make circles using a biscuit mold or a glass.
Raise dough circles with metal spatula to baking tray. Bake in the middle of the oven at 200 ° C. Bake cookies about 5-8 minutes (time depends your oven). The most important thing is to let cookies stay quite soft, because if you bake those too long you´ll have very hardy cookies!
PEANUT BUTTER CREAM
1 cup coconut cream (refrigerated overnight)
¼ cup + 2 tbs coconut palm sugar
¼ cup organic peanut butter
⅓ tsp sea salt
Open coconut cream can and drain the extra water away. Add thick coconut cream into a bowl with coconut sugar. Whisk until you have thick cream. Add peanut butter and salt. Whisk well. Put beanut butter cream to fridge for a period of 30 minutes. Extrude onto the cooled cookies.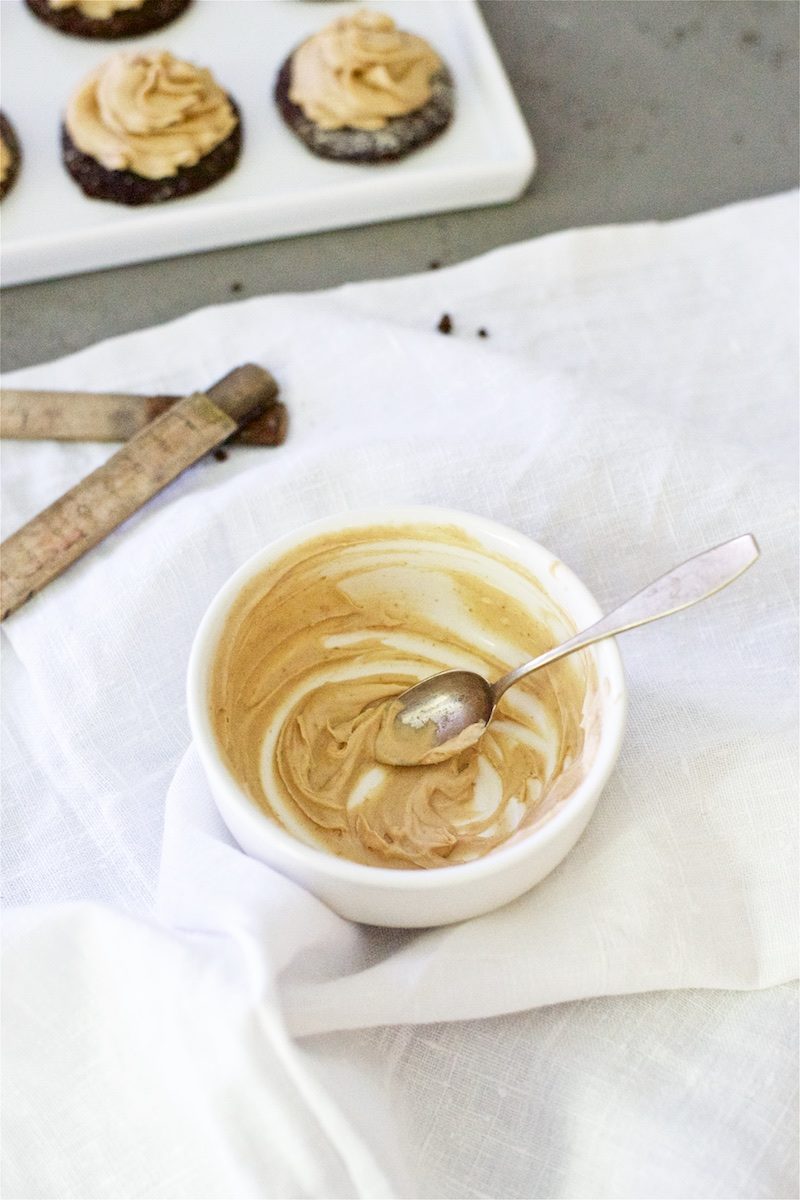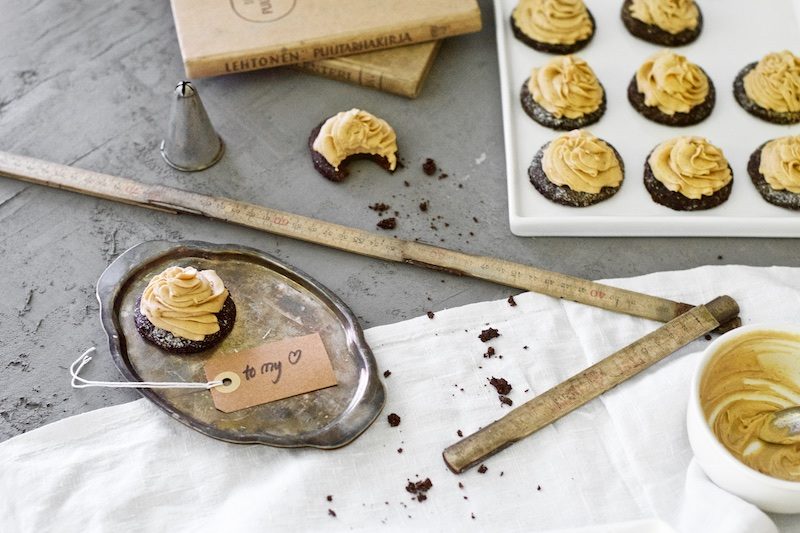 Enjoy by yourself and let your friends have few cookies too! Dark roasted organic coffee is a perfect pair to these creamy cookies, give it a try.
Follow Yellow mood: